"Note: Affiliate links may be used in this post. I may receive a small commission at no extra cost to you if you make a purchase through my affiliate link. Read my full disclosure policy here.
Jump to Recipe
My husband loves pork so I am constantly coming up with new ways to season and cook it. One of our favorite recipes is this rosemary & thyme pork roast. The best part is cooking it in my Crock Pot so I can start it before I leave for work in the morning ( I just adjust my morning routine to allow for the 15 minute prep time it takes to get it started) and dinner is ready when we get home. All I have to do is make the gravy which only takes 5 minutes!
When I cook it on the weekend, I will make an artisan bread or homemade rolls to serve along with it.
Start by prepping the vegetables.
Peel and cube my potatoes, slice my onion, and mince my garlic. The baby carrots are already prepped! The onion and garlic could be prepped the night before if desired.
Rub the roast with the salt and pepper. These amounts can be adjusted according to taste. I estimate about 2 teaspoons of salt and 1 teaspoon of pepper. I would like more pepper but the husband doesn't. Oh, the things we do for those we love.
Sear
In a medium skillet, heat the olive oil over medium heat until it begins to glisten. Sear each side of the roast until it starts to become a light golden brown.
Place the roast in the slow cooker and add the rosemary,thyme, and garlic directly on top of the roast.
Place the vegetables around the roast then add the broth and water. I don't quite cover the roast with the liquid. It is going to cook for 8-10 hours so there will ultimately be plenty of liquid to keep it moist and make it yummy tender.
Cook on low for 8-10 hours. It is ready to serve after 8 hours but I am gone longer than that, with my commute time my days are at minimum 10 hours. Whoever gets home first turns it down to warm until we are ready to make the gravy and have dinner.
Coming home to a house that smells delicious is a bonus to this recipe!
Be sure to Subscribe to get tips delivered straight to your inbox about twice a month!
Follow us on Social Media for frequent updates
Rosemary & Thyme Pork Roast
This yummy fork tender pork roast seasoned with rosemary and thyme is sure to become a family favorite.
Ingredients
3

lb

pork roast

2-3

medium

russet potatoes

2 inch cubes

1

c

baby carrots

1/2

medium

onion

sliced

2-3

cloves

garlic, minced

or 1 T garlic powder

1

tsp

rosemary

dried

1

tsp

thyme

dried

1

tbsp

olive oil

2

c

chicken broth

2-4

c

water

2

tbsp

cornstarch

for gravy

2

tsp

salt

1

tsp

black pepper
Instructions
Rub all sides of pork roast with salt and pepper. Heat olive oil over medium heat in a 10 inch skillet until glistening. Sear pork 1-2 minutes on each side.

Place roast in slow cooker and sprinkle rosemary, thyme, & garlic on top.

Place potatoes, carrots, & onions around roast. Pour in chicken broth & 2 c. water. Liquid should almost cover everything, if not, add more more water.

Cook on low 8-10 hours.
Gravy
Remove 3 cups of the broth to a medium sauce pan and bring to a boil. Combine cornstarch to 1 cup warm water and stir.

Add to broth and simmer 3-5 minutes stirring constantly until thickened.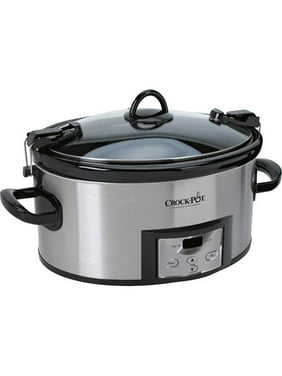 I hope you enjoyed your easy, yummy pork roast! Let me know what you think! Be sure to check out my other slow cooker recipes!
Be sure to sign up for my newsletter to get the latest recipe posts delivered straight to your inbox!